Keep reading to hear Danielle's story or click here to watch the 3-minute video version.
It was the wake-up call that I needed. And it came in the form of these questions…..  
"What kind of example am I setting for my daughter?"  

"How can I tell her that she deserves better if I don't think I deserve better in relationships?"  
My dating experiences had gone from bad to worse when one of the men I was seeing tried to hit on my daughter, who was 17 at the time.

That was when I threw my hands up and said "Universe….you've thrown feathers, then pennies to try and get my attention…what's next… bricks?"

It was my rock bottom and I was ready to listen.

I've always tried to be the perfect girl. I grew up in an abusive household. Perfect was my way of trying to stay safe. 

At the age of 12, I started getting compliments on my appearance. I got used to hearing "oh my gosh, you're so beautiful. You could be a model". One summer my aunt invited me to live with her in Japan, so she could help me begin my modelling career.

I was maybe 100 pounds soaking wet at the time. But to my mother, my body wasn't good enough. She'd tell me to "suck it in" or that what I was wearing looked like a potato chip dress, implying you could see everything I'd ever eaten when I was wearing it.

As I started to go through puberty, I gained 20 pounds and received the news that I was "too big" to be a model.

At the age of 17, I got pregnant for the first time. I had a miscarriage and I went down a path of different choices….including getting married at 18, divorced by 19, having rebound sex and getting pregnant with my daughter. I delivered her a month and a day after my 20th birthday. We were like the original Gilmore Girls. 
When I had that rock bottom moment and realization, I knew that any changes had to start with me. 

As I started to look back on my life, I began to see how all I've wanted was to feel loved. I can see how my lack of self-worth meant I didn't value my body. I began to see how I was always looking for validation outside of myself. Seeking it from men, sex or by trying to be the perfect daughter for my mother.
It was time for me to love and accept myself. 

As I started to learn how to love myself again, I thought back to when my friend had shown me boudoir photos that she'd had taken. It was seven years ago and at the time she handed me the business card of the photographer she used. I remember thinking that maybe one day when I was getting married or my daughter was older I would do it.
I started researching photographers and came across Argentina's website. I decided to give myself a few months to save up and told myself I'd keep her in mind when I was ready. 

Not long after that, I began packing up my apartment preparing for my move. As I was cleaning I came across that business card my friend had given me seven years ago. The name on the card was familiar. "Oh, my God. This is the same woman. I have to do this."

It was another sign from the universe and without hesitation, I booked my appointment right away. I also decided to get serious about the weight I had recently gained.

On the morning of the shoot, I started to panic. I realized it was scary because I was finally doing something for myself. Instead of rushing through showering, shaving and getting ready, I reminded myself to slow down and enjoy this experience. 

When I arrived for my appointment I felt so relaxed. Bella sat me in the makeup chair and began to work her magic. Argentina took the pieces I'd brought and put together outfits. I felt like royalty.

My girlfriend, Alissa, joined me for the photoshoot. Afterwards, she looked at me and said "I was near tears a few times just because you have no idea how gorgeous you are."

I noticed something was missing during the shoot.. my inner critic. It was silent.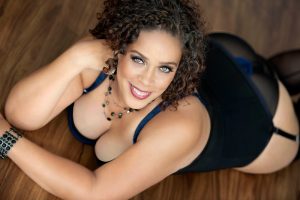 Before I left the studio that day, Argentina showed me my photos. I was in shock.
As we flipped through the photos, I was talking like the woman in the photos wasn't me. Saying things like "I'm in love with this woman", "that woman is beautiful", "that woman is perfect".

Seeing my photos made me realize that I don't have to lose weight. I'm perfect just the way I am. 

That night, I went home and put on pyjamas, but I didn't want to wash my face. I kept taking selfies and I couldn't stop staring at myself. 
A few days later, happy tears started pouring out of me. I messaged Argentina. 
That was the moment I believed that I am that woman in the photos. A woman that doesn't take shit from anybody. A woman that doesn't need external validation. A woman that loves herself. [bolder sub-heading text]

Since my photoshoot, I've noticed the way I think about and treat myself is so different. I've developed this love and compassion for myself. I've learned to be gentle with myself, instead of beating myself up over what I haven't accomplished. My inner critic seems quieter and less harsh now. I've continued to take care of my health, valuing my body but I've let go of any goals to reach a certain number on the scale. It's about how I feel. 
This newfound self-love and gentleness for myself even helped me release a block I had in my business. I'm in a new relationship and it feels good to be with someone and know that I don't need him to validate me. I have myself and if I need a reminder, all I have to do is look at my boudoir photos.

My daughter has noticed how I carry myself differently and she's started to open up to me more about relationships, dating and what she deserves.
My legacy is my daughter's self-respect, confidence and self-love. Her knowing that no matter what happens, that she will be okay, that she is strong, that she is good enough and worthy. That's my biggest legacy. 

Own your worthiness and feel more confident, without losing weight or changing your appearance

I invite you to click here to apply to receive an information package on my COMPLIMENTARY confidence-boosting boudoir photoshoots.

Why am I giving away COMPLIMENTARY photoshoots? 
I know how scary it can be to invest in a photoshoot and worry about whether or not you'll like your images. This is why I am offering the photoshoots complimentary so that you get an incredible custom photoshoot and only buy the images that you are in love with!

Your session is complimentary and it includes:
✅Professional hair and makeup application $200
✅Use of shoe and jewelry boutique $100
✅1.5 hours of my talent as a photographer creating 300+ images with 5-6 different concepts to choose your favorite images. $600
✅Private viewing of your images $200
✅Digital enhancement and retouching of your 10 to 30 favorite images $200-$600
✅Luxury leather album to preserve your images $300-$600
This experience is valued at $1,850 and you pay nothing for it, you only invest in the images you like.

Both my Chicago and Austin studios are accepting limited bookings for 2021 and 2022.

Step into this next season of your life by celebrating the woman that you've been and the woman you are BECOMING.