Learn the 4 essential strategies that'll help you rediscover your self-worth and become more confident than ever before.
After a divorce or bad breakup it can feel like not only has your relationship walked out the door, but so too has your self-esteem and confidence. 
If you're currently in the middle of a bad breakup or divorce or struggling to recover after either one of them, I want you to know, you're not alone.

I get how you feel. I've been divorced not once but THREE times. After each one my self-esteem was devastated, I felt like a failure and like I was inadequate and unwanted.
It may not feel that way right now, BUT you can recover your sense of self-worth and self-esteem… AND I'm going to walk you through the 4 strategies that'll help you feel more confident than ever before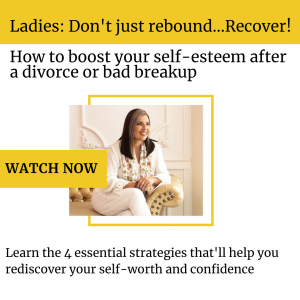 Click here to watch the video version of this blog post
This is my mission in my business AND LIFE….because when a woman feels good about herself, is confident in who she is and stops questioning her worthiness…….She becomes the master of her life.
I want that for you, so let's dive into the 4 key strategies that'll kickstart your recovery to feeling more vibrant and confident….
Strategy #1: Own your worthiness and your vision of the future
How to apply this strategy: Decide that your worthiness is not defined by events, experiences or anyone else. You were born worthy. You've always been worthy and you get to reclaim and remind yourself EVERY SINGLE DAY…that you are worthy. 
Next, remind yourself that your past DOES NOT DEFINE your future. If you notice thoughts coming up in your mind that tell you things like "that hasn't worked in the past, so it's not going to work now" or "remember last time you tried it" or "you've failed before, you're going to fail again".…reframe them by reassuring yourself that you're going to be okay, your past is your past and that you are deserving of whatever vibrant vision of the future you're dreaming and working towards.
Strategy #2: Honor your current feelings and dream up how you ACTUALLY want to FEEL
How to apply this strategy: Understand and acknowledge how you're feeling right now. If you're feeling angry, sad or frustrated, acknowledge that. Don't deny or ignore your feelings. Acknowledging them lets us work towards processing them in supportive ways.

Next, create a list of all the ways you want to feel moving forward. Write those feelings down. Pick what feelings excite you and are meaningful to you. Is it adventurous, courageous, BOLD, impactful, flourishing? Pick 3-5 that stand out to you.
Strategy #3: Map out your post-divorce or breakup goals and how you'll accomplish them
How to apply this strategy: Now that you've decided on how you want to feel, create goals that will allow you to FEEL that way. 
For example, if you wrote down you that want to FEEL confident, brainstorm goals that will get you feeling confident….maybe it's taking care of your health, applying for a new job or moving to a new place. 
Next, you'll want to create a roadmap for how you'll achieve your goals and FEEL the way you want to feel. 
For example, if you wrote down that you want to FEEL loved and you have a goal of being in a loving relationship, on your roadmap you might write out steps like:
Write down the activities that I can do for myself that make me feel loved

Practice one of those activities daily in my morning routine

Make a list of the qualities I am looking for in my future relationship and how I want that relationship to feel

Hire a dating coach or create a new dating profile
Strategy #4: Take massive ACTION
How to apply this strategy: I know this is the most difficult step and will likely be outside of your comfort zone. It's vulnerable and uncomfortable to face our fears, especially our fears around being rejected or that we'll be alone forever. Use your roadmap and those feelings to guide you and practice taking one uncomfortable action after another. Focus on the steps that BOTH excite and scare you. 
Know that wherever you are in your journey to recovering your self-esteem and confidence that you are already an AMAZING woman and that I'm here to cheer you on and support you!
I invite you to check out my 7 days to Self-Love Workbook. THIS FREE resource will help you find simple practices to take care of and nurture yourself so that you can feel loved, replenished, and joyful.
Click here to download your copy of the 7 Days of Self-Love Workbook NOW!
Hey, I'm Argentina Leyva – International Photographer, Confidence Coach and soon to be published, Author
For the last 13 years, I've had the honour of helping over 3,000 women. I use boudoir photography to help women transform the way they feel about AND see themselves so that they can elevate their self-esteem, boost their confidence and feel BEAUTIFUL!