If you've ever told yourself you're "too big" to do what you want, you have to read this inspiring story and message from Sheila Lopez.

Sheila is a plus-size model and blogger who visited my studio in Austin for her very own boudoir experience. After posting some of the photos from her shoot, Sheila shared this bold message with her community: 
"For so long I held back from new experiences because I thought I was too big and big girls just can't do certain things. I realized a few years ago when I started modelling that the only thing holding me back was people's opinion of me. 
Well, honey, I couldn't care less anymore and I'm far from seeking approval and validation. I love who I am. I am a woman. I am resilient. I am passionate. I am a writer and model. And, I've got amazing style! The only person I answer to is myself. If I can walk with conviction and look in the mirror without questioning my integrity, then I must be doing something right. Plus, I make this look damn good!"

Sheila is all about smashing the misconception that's out there that if you're a bigger woman you can't model or look good in pictures "saying, that's so not true. I am a plus-sized woman and I can tell you are sexy, you are beautiful and you have the right to show that."
Here's what Sheila had to say about her boudoir photoshoot…. 

Keep reading or watch this 3-minute clip of Sheila's boudoir experience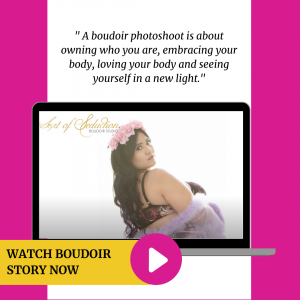 "It's been an amazing and awesome experience, to connect with another woman and have this experience of taking pictures in a boudoir setting. The pictures came out amazing. They're something I'm going to keep forever and look back on.

One of the things I love about Argentina is she is going to guide you, get you to that shot that you'll love."
When I asked Sheila what advice she'd give other women, here's what she said: 
"You're in good hands, you do not have to be skinny to do something like this
Whatever body type OR size you are, embrace your body and do a boudoir photoshoot. 

Every woman needs to experience this. A boudoir photoshoot is about owning who you are, embracing your body, loving your body and seeing yourself in a new light.

You deserve to be in the spotlight, have these moments captured and have these photos that you can cherish forever."  
My approach to boudoir photography is unlike any other photographer…. 

Why am I giving away COMPLIMENTARY photoshoots?

I know how scary it can be to invest in a photoshoot and worry about whether or not you'll like your images. This is why I am offering the photoshoots complimentary so that you get an incredible custom photoshoot and only buy the images that you are in love with!


Your session is complimentary and it includes: 

✅Professional hair and makeup application $200
✅Use of shoe and jewelry boutique $100
✅1.5 hours of my talent as a photographer creating 300+ images with 5-6 different concepts to choose your favorite images. $600
✅Private viewing of your images $200
✅Digital enhancement and retouching of your 10 to 30 favorite images $200-$600
✅Luxury leather album to preserve your images $300-$600
This experience is valued at $1,850 and you pay nothing for it, you only invest in the images you like.
I invite you to click here to apply to receive an information package on my COMPLIMENTARY confidence-boosting boudoir photoshoots. Both my Chicago and Austin studios are accepting limited bookings for 2021 and 2022.
Step into this next season of your life by celebrating the woman that you've been and the woman you are BECOMING.