Find Your Perfect Fit with These Size & Styling Tips

Whether you're shopping for lingerie for your boudoir photoshoot or simply because you want to treat yourself, don't be scared by all the technicalities….we've got you covered.
The last thing you want to do is invest time and money, shopping for a corset only to realize later that it doesn't fit or it's not at all what you expected. We frequently get asked from clients what's the best type of corset or lingerie to wear for my boudoir session.
Recently, Argentina interviewed Lingerie expert and Le Rouge Boutique Manager Asen to get all must know shopping tips when it comes to buying a corset.
Featherlite, Spiral or Steel. Not all corsets are created alike.
Corsets are optimal for shaping and enhancing your body silhouette. Depending on your size and body structure, knowing the ins and outs of corsets will help you find the perfect fit.
There are three main types of corset boning (which refers to the structure of the corset), which include:
Featherlite
It's by far the most common type of corset. It's light, flexible, made out of plastic boning and is the easiest to move around in. This type of corset is not going to give you support, but it will give you the look of wearing a corset.
Spiral
This is a fairly new corset option. It's flexible like a Featherlite, but offers more stiffness and support, making it a good in between option.
Steel
This is the classic corset type. Due to the steel boning, it's no surprise it's also the heaviest and most constricting. The steel boning and structure allows this corset to provide you with the most contouring of the three.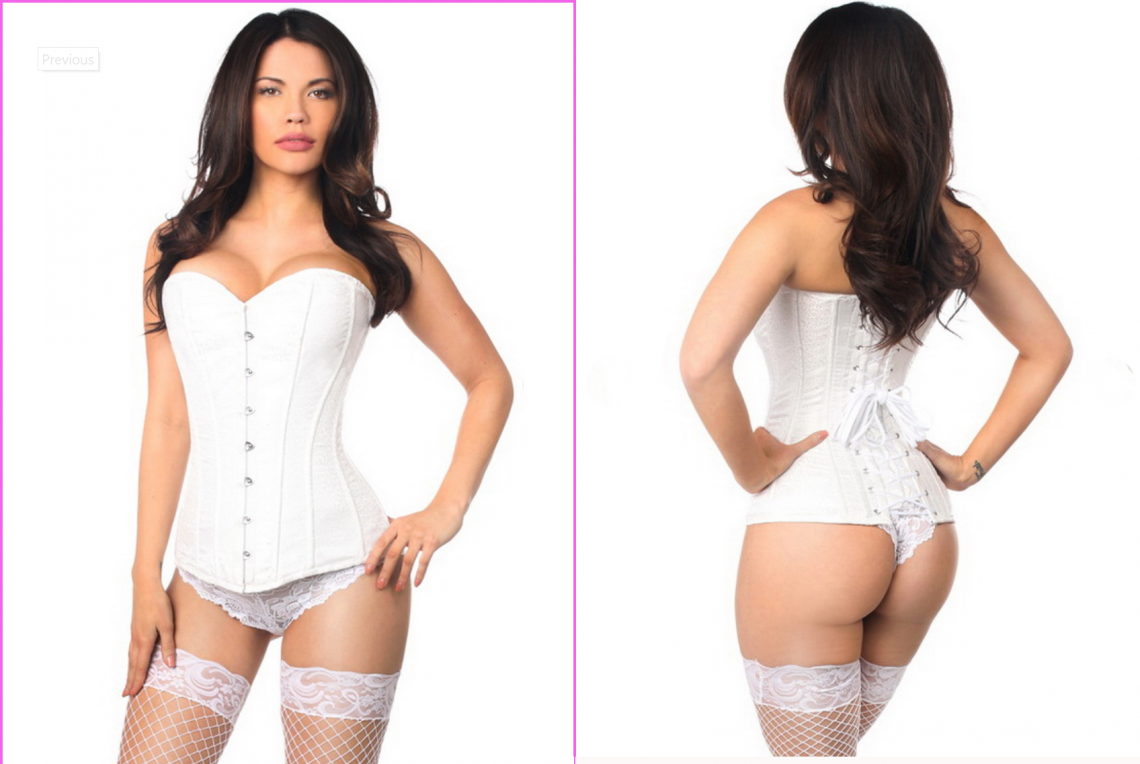 In addition to the types of boning within the corset, you'll also want to be aware of the varying lengths of corsets, which include:
Underbust – which falls directly under your bust
Overbust – which goes over your bust area
Waist cincher – which ends at the lower mid-section of your rib cage
Waspy – which ends where your floating ribs are located
You'll notice most corsets are considered short line, meaning they fall above the hips. Thought here are some long line corsets out there that go below the hip area.
What is grip and why do I need it?
When referring to corsets, grip is what gives you the allowance to contour and create shape. Steel or spiral boning will give you the best grip. In addition to the type of boning in a corset, be mindful of the material. A sturdier material like canvas is best if you're wanting more grip and contour, versus a less sturdy material like a silk or mesh that won't support contouring your shape.
Types of Corset Closures
Bask teeth closure
This type of closure is common on a spiral or steel boned corset. It does not undo on itself. You'll need to hook it from the top down or bottom up. You can't start buttoning it up from the middle.
Hook and Eye Teeth
Like most bras, Featherlite corsets tend to come with the hook and eye teeth. These can be tricky to close on your own, especially if you have limited hand mobility.
Bustier vs. Corset
At big box lingerie stores most of what they label as a corset, is really a bustier. Bustiers look like a corset, but they don't offer any contouring. Often they're made with a mesh material and if they have ribbons on the back, trust us when we say they're not meant for cinching, just looks.
Corset Styling 101
Now that we've covered common corset materials and structure, let's discuss different corset styles and which ones work best for your body. When shopping for a corset, keep your bone structure in mind.
A corset can only do so much contouring and our bodies are all built a little differently. Understanding your natural silhouette and shape can make finding the right corset even easier.
Short Line
A corset that falls slightly above your hips.
Wear: If you have a short torso or you're body is more full from your hips down.
Avoid: If you want coverage and control from your bust to slightly beyond hip area.
Long Line
A corset that covers slightly over the hip area.
Wear: If you'd like to confine and contour your stomach.
Avoid: If you have a long torso.
Underbusts
A corset that falls just below your bust line.You can pair an underbust with a bralette, pasties, push up bra or lace top.
Wear: These are best for women with smaller breasts and a fuller body. These are also a great option for women with larger breasts who can't find an overbust corset that fits their bust area or women with an hourglass figure.
Avoid: If you prefer the look of one piece of lingerie or cannot find a bralette, bra or top to match your corset.
Overbusts 

These corsets are pretty self explanatory, but they cover and go over your bust area.
Wear: If you have an hourglass figure or have larger breasts an overbust works great and can offer you varying strap types including racer back which gives you great support.
Avoid: Most of these types of corsets have a concave pocket, something to be mindful of as it may create a gap between your breasts and the corset if you don't fill the corset in that area.
Waspy

These corsets offer the most severe silhouette, as they focus on contouring the space between your lower ribs and hips. They provide that sharp, very cinched look. You can pair a waspy with a pushup bra and panties to complete your look.
Wear: If you cannot find a overbust corset in your size and want more cinching at the waist.
Avoid: If you have an hourglass figure, your shoulders will appear even wider
Size Yourself Up
When selecting a corset size, you'll need to know your bandwidth. You can get these measurements by measuring around your body, underneath your bust.
Next you'll want to consider your bra size (unless you're shopping for an underbust). Getting measured by a bra or lingerie specialty store is a great way to ensure you're wearing the proper bra size. Most corsets do not take in consideration your waist size, so starting with your bandwidth size and bra size is the perfect starting point to corset shopping.
When trying on corsets, you'll want to ensure you have approximately the size of four fingers in the back for the closure area. Anything wider than this means your corset is too small and if your corset comes together all the way in the back it means it's too big. You want to ensure you have room in the back to cinch the corset to allow for that grip and contouring to occur.
Other Important Corset Tips
When trying on corsets, you'll notice parts of your body are being constricted, pushed back or down, including your breasts. You might even feel like they've disappeared or that you've suddenly got an abundance of skin pushed in certain places. Don't get discouraged. Practice being loving with yourself. This happens to women of all sizes and remember it's the job of a corset to contour.
Give yourself lots of time to do the research and shop for a corset that fits your body.
Want more coverage?
Pair foundation wear, such as Spanx in a nude or black colour with lace panties and your corset. Wearing your panties and corset over the foundation wear makes it less visible while giving you the support you're looking for.
Still can't find a corset that fits?
Ready to wear corsetry may be an option to consider. Here the corset is custom made so that you are guaranteed it will perfectly fit you.
When is a corset not a good idea?
If you can't find a corset that does not fit well, whether it's too long, short, big or small, do not settle and buy it anyway. Our lingerie should make us feel confident, beautiful and empowered and finding a corset that fits is part of that equation.
If you have any body braces or a fused spine, avoiding a corset is also a good idea. Keep your health and caring for your body in mind and seek out alternate lingerie options that fit you.
Oh and one final, but very important thing to keep in mind. Never, ever cut the string on your corset. Even if you don't think you need the extra string, it's important to keep it in place to allow for proper gripping of your silhouette.
Le Rouge Boutique
If you live in Texas or want to shop online, be sure to visit Le Rouge to browse their selection of lingerie and corsetry, https://www.lerougeboutique.com. They cater to a variety of body types and sizes.
Ready to reconnect with your confidence, power and beauty?
Book your very own boudoir session with Art of Seduction Boudoir at either our Austin, TX or Chicago, IL studios. BOOK AN APPOINTMENT