Bras
The one thing to keep in mind when selecting a bra for a boudoir session is to select one with support, also known as Push up bras. Select one with padding especially if you have small breasts so gravity doesn't flatten your chest when you lay on your back.
Undies
There are many types of undies: bikinis, briefs, thongs, boy shorts, etc. When selecting the perfect undies for your boudoir session, go for undies that shape your booty. Avoid g-strings or full coverage briefs, you want to show off your derriere with undies that show part of your goods. Cheekies and thongs are the best for this purpose.
Garters
These sexy little things will transform a simple set of bra and panties into a sexy set for a photoshoot. They are meant to hold stockings in place but you can wear them by themselves. Many outfits already have the suspenders attached. Garter belts come in many sizes, some are great to dissimulate tummies and stretch marks.
Teddies
Teddies and body suits come in varieties that include shape control. They are fantastic to hide tummies and give your waist a nice hug. You can find bodysuits meant to be worn under regular clothes that have chest support and tummy control or you can go for playful teddies meant for a sexy and fun night.
Baby Dolls
Baby dolls are one of the most popular pieces of sexy lingerie. They come in many fun fabrics, from sexy sheer fabrics to full coverage fabrics with beautiful colors and patterns. The best ones for a boudoir session will be the ones with chest support but you can add a push up bra under a baby doll for support.
Slips
Slips can look like a mini dress in silky fabrics or a tight to the body dress. The first s great to make you look slip and hide distractions. The second one is great to give you a hugging feeling and show your curves while hiding imperfections like stretch marks. You can find slips that come with attached suspenders or you can wear a garter belt underneath as well.
Corsets and Bustiers
The difference between a corset and a bustier is that a true corset has rigid boning and fabric to shape your body and has two sets of lacing on the back to tighten you, lift your breasts, make your waist smaller and flatten your tummy. Many outfits are called corsets but in reality the are bustiers. They might look like a corset but they don't have rigid boning and the fabric is elastic. If you have a great shape, a bustier might be all you need. But if you want to have an hour glass shape, go for a corset.
Night Gowns
They are great to wear during your time at a boudoir session but normally they are meant to cover you so your skin doesn't show. There are some with sheer fabric or lace that can be used for your boudoir session to help dissimulate arms and other distractions.
Cinchers
Cinchers and Girdles are meant to be worn for support under regular clothes, mostly dresses. They are great to shape your body but also fun and great to add to your lingerie outfit. Use them on top of a regular set of bra and panties and voila, you have a fabulous set!
Stockings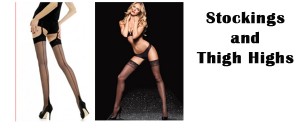 The best makeup for your legs! They come in two varieties, stockings and thigh highs. Stockings will need a set of garters or suspenders to stay in place while thigh highs have a silicone band on the top that allows them to stay in place. However, thigh highs can still be attached to the suspenders for the sexy effect. One complain about thing highs is that they dig into the skin and make it bulge. Look for plus size thing highs to avoid this or just go for stockings.
To learn more about doing a boudoir session with Art of Seduction Boudoir, please schedule a phone consultation, here is a link to my personal calendar.