I want to tell you the story on how I became so popular as a plus size boudoir photographer.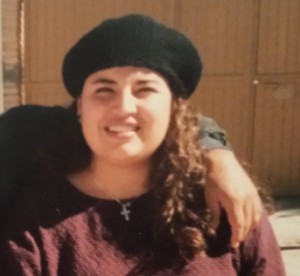 I have always been a big girl, at least it was what I always believed since I turned 16 and realized that I was bigger than all my friends in school. At 5'7″ and always being of an athletic constitution, I was  two to three inches taller than my friends and many boys too.
I grew up hearing remarks about my weight all the time. Things like: "You carry your weight really well" or "You are so pretty for a girl your size", or "You only need to loose 20 pounds to look thin". Sounds familiar?
As a consequence, I grew up with a very distorted image of myself and thought that I was never going to be liked by men because I was not thin enough, I was too tall and I wasn't pretty enough.
At one point my mother took me to a doctor to get prescription appetite suppressants because she couldn't stand seeing me fat (I was a size 12 at 18 years old and still are the same size at 46). The pills worked, I didn't eat for a month and lost a lot of weight in muscle mass, not fat. But even after losing the weight, it was STILL NOT GOOD ENOUGH, I was still fat.
I was so hungry after the pill effect wore out, I gained all the weight back plus 10 pounds in less than a month, I felt worthless and without hope of ever being good enough to anybody. My self-esteem and self-worth were damaged from that point on and it stayed with me until my late 30's.
As a result, as soon as I was able to leave home, I avoided going back and tried to build my life hidden away from those who hurt me and reminded me I was not good enough. I concentrated in my career and finding a way to rebuild my self-esteem, find a purpose to my life and a way to live with my physical appearance.
The Transformation
Fast forward 20 years, I started doing boudoir photography, mostly for brides-to-be. I thought only young, beautiful, skinny girls that looked like models were the only ones that could do boudoir sessions. But then I started to get women like me, in their 30's, 40's, 50's and even 60's! Women of all shapes and sizes who wanted to feel beautiful just as they were. These women became my inspiration and gave me the courage to do my own boudoir session at age 38.
What I saw changed my life forever. For the first time in my life I saw I was beautiful just as I was. I started to walk tall, be flirtatious, smile a lot, get dressed up and for a change, I was able to take compliments and BELIEVE they were TRUE and not just comments to make me feel better. My perception of ME changed completely from feeling unattractive to feeling beautiful ALL THE TIME!
My Plus Size boudoir Clients
This transformation inspired me to create what I call "Divalicious" boudoir session. A boudoir session to capture the beauty of curvy women. I realized that ALL women want to feel beautiful regardless of shape, size or age. No more just portraying perfect, young, thin women. It is time to show to all women that we all have the right to feel beautiful and that we all are beautiful. All we have to do is to change how we feel.
Through plus size boudoir photography I have photographed hundreds of gorgeous women, and they were absolutely amazed and thrilled that they could look so good in pictures.
Here is a sample of images of beautiful plus size women who have graciously allowed me to share their images with you.
If you are ready to discover your own beauty in a life changing experience, I invite you to click on this link to schedule a phone conversation with me a learn more about the process.
I am certain that I can show you your beauty in a way that will change your life. All you have to do is take the first step and connect with me.
I look forward talking to you!
Argentina