Divorce at any age is tough; some might say it's harder the longer the relationship is, but I disagree. Pain is pain, and we all suffer to our own capacity. Sometimes it feels like there's nothing people can tell us that will make us feel better – and for most of the time we feel that their comments will make us feel worse – we've got enough heartbreak going on without having to deal with people's pity, however well-meaning.
First Up, Change Your Thinking
When I divorced, so many friends and acquaintances sent me their condolences, but the reality was that I was blessed with happiness! People, we get divorce because we are not happy, so how about a "Congratulations!" and a high five?! At least that is what I do when I welcome my divorced clients to my studio. Every single one of them smiles and tells me that I'm the first person to congratulate them instead of feeling sorry – and that means they feel liberated to say how they're really feeling. And how's that? "It was the best decision I made!"
So next time you get a friend telling you she got divorce, please, give her a high five and big hug – she made a courageous decision to break with our society's norms and think of herself before what other people think. That is true self-love and we need more of it!
How to Bounce Back from Divorce Stronger Than Ever
I have gone through three divorces so believe me, these steps work like a charm!
---
1. Rediscover the Real You
We all get a little – or a lot – lost in our relationships, so separation is the perfect time to discover who you really are, without having to think about other peoples' agendas. Change your look, your hair or style of clothing. Move houses, remodel your home, trade cars… We're talking anything that gives you the feeling of celebrating the new start you've created for yourself.
---
2. Date without an Agenda
A date can be with anyone, not necessarily a potential new partner. It can be a friend, a girlfriend, yourself and even a professional escort – why not? If men can hire a professional escort so can women. A date gives you an opportunity to have a new social life, get made up and wear sexy clothes. Try things you've never done before, invite a friend or go alone.
---
3. Open Up to Every Experience That Comes Your way
Realize that things do not happen to you – things happen for you. Everything happens for a reason so be curious about people, places and opportunities that come into your life. Anything goes right now!
---
4. Ditch Your Preconceptions
When you're ready to get out there and have a little fun, don't let your own stereotypes limit your options. For example, many older women believe that younger men are only interested in them because they're easy prey and desperate for a one night stand. Not true! Men in their 20's and 30's find women in their 40's extremely attractive for very different reasons. The most common ones are that we are;
* Great conversationalists
*Independent and not looking to be saved
*Confident and know what we want
*We have a great sex drive!
Put it like that and you can see why they find us so irresistible! SO with all that in mind…
---
5. Don't Be Afraid to Be a "Cougar"!
As long as you feel good, what people think is none of your business. I have been a cougar and it made me feel so good about myself and also had the opportunity to take care of my needs with someone that had absolutely no emotional attachment to. That really made me feel strong and empowered. If celebrities like Demi Moore and Jennifer Lopez can do it, hell, so can we!
---
6. Try Something New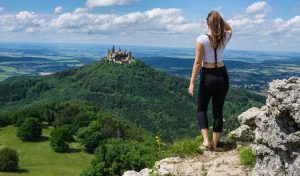 Maybe there's something you've been thinking about doing "sometime" in your life but left it for "someday". Live for now girl! Here are some suggestions:
Try and exciting new sport that'll get you meeting people and see your confidence grow. I recently went scuba diving and got my certification!  If water's not your thing then boxing might be – just imagine your ex is the target!
Take a trip to your dream destination – the one your ex never wanted to take you to because he was too cheap or too busy to take the time off. Selfies taken at a hot destination are the best revenge pictures to post! Better yet, become a model in a exotic destination like Fiji or Greece, check out this travel experience.
Think about getting a pet for some unconditional love in your life. Not able to commit? Then there are way too many animals looking for foster homes so help one out!
Remind yourself to LOOK HOT! Sexy pictures are a great way to boost our confidence and self-esteem. CLICK HERE to book with my studio, Art of Seduction Boudoir, and I will do your shoot for free, just to show you how delicious you look!
Do you have more ideas on what to do after divorce? I would love to hear them and share them with other women! Send me your ideas to info@artofseductionchicago.com with the subject "Life after Divorce".