Celebrate your body by doing your very own DIY Boudoir Photoshoot
This may sound weird for a photographer to admit….BUT…..one of my all-time favorite images of myself is actually A SELFIE! 
Can you believe that? 
After my divorce, I was needing a pick me up, so I decided to do my own boudoir shoot. 
I spent the day playing with the camera, doing my hair and my makeup, putting together outfits and just having fun.
For the month of December, I wanted to give you ladies my BEST photo tips, so that you can celebrate yourself, your beauty and have some fun with very your own DIY version of a boudoir photoshoot.
Maybe the photos you take will just be for you, or maybe you'll share them with your special someone for the holidays. 
Either way… 
I'm spilling my best tips and giving you video tutorials that cover camera angles, lighting, posing and styling. 
I've worked with over 3,000 women in the last decade, photographing women from ages 25-70 and sizes 0-30, so you can be confident in knowing these tips and tutorials will capture your unique beauty! 
If what you want is to OWN your life, your self-esteem, your self-worth, your beauty, your value…in other words, feel that you are GOOD ENOUGH…..
You must change YOUR PERCEPTION of yourself. 
This is exactly where boudoir comes in. Taking the time to get dressed up, stand in empowering poses and have our photo taken, even if it's a selfie has the ability to boost our self-esteem AND change the way we look at and feel about ourselves.  
Participate in the DIY Holiday Boudoir Challenge and you could win a makeup bag full of everything you need to achieve a glamorous look
I'm giving away a bag full of makeup and makeup tools to the ladies who commit and complete the Beautifully Me – DIY Boudoir challenge that I have been posting about!
To give you time to watch the video tutorials I've been sharing as well as practice your makeup, posing and get your ready outfits, you have until January 8th, 2021 to complete the "challenge". 
To be eligible to receive this goody bag of makeup, you must:
Be an active participant in this challenge

Post your boudoir selfie to the Daring Greatly Diva Group on Facebook

Post a selfie with your hair and makeup done, in your lingerie outfit, using the lighting and posing techniques that I taught you

Include in your post how this experience felt for you.

Post your selfie to the Daring Greatly Diva group on Facebook by January 8, 2021.

Click here to join my FREE Daring Diva Community and enter the challenge
FREE DIY Boudoir Photoshoot Guide
Once you have joined the Daring Diva Community and said "I'm in" on the challenge announcement post, you can watch these FREE tutorial videos.

I walk you through step by step everything you need to prepare and practice so you can have your own confidence-boosting boudoir shoot, right in the comfort of your own home.

Take your best selfie YET
#1 Camera Angles
Hold your phone slightly above your eyes or to the point where you can't see your nostrils. Look up and CLICK. You'll want to avoid holding the camera below your nose ..unless you want to add some extra chins to your photo.
#2 The RIGHT lighting
Natural light is the best, but if it's in the evening find the brightest light fixture and face it, so that the light is coming towards your face.
#3 SMILE
Whatever feels natural to you…think about how you smile after someone compliments you or when you think of something funny.
DIY Boudoir Video Tutorials 
Add the blog images in rows of 3 across horizontally and link each image to the associated Facebook post.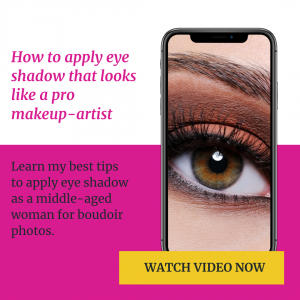 Boost your body confidence and elevate your self-esteem. 
Join my DIY Boudoir Holiday challenge now. It's 100% FREE to enter and participate and you'll get access to my video tutorials that walk you through each step. By the end, you'll know exactly how to capture that perfect shot of you and your beauty!
Hey, I'm Argentina Leyva – International Photographer, Confidence Coach and soon to be published, Author

For the last 13 years, I've had the honour of using boudoir photography to help over 3,000 women change the perception of themselves and their bodies so that they can become the highest version of themselves.