Investment
Because every woman is different, we will customize your boudoir experience with poses from any of my multiple collections to create your vision. In the same way, you will be able to customize your investment and take advantage of my payment plan.
All-inclusive packages start at $1995 and include professional hair and makeup.
Art of Seduction is a Boutique photography studio. I work with only few clients every month so that I can provide you with my full attention and the best possible experience.
I know doing a boudoir session can be scary, I've been there! To ensure you will have an amazing experience and be beyond ecstatic about your images, you will be in one of my private studios where me and my makeup artist will provide you with personal attention and a comfortable, fun and safe environment.
To book your Boudoir Experience, you will need to first fill an application HERE so that I can get to know you better and when we get on the phone, we can focus on planning for your session.
To book your session, you will make a $500 deposit that will be applied to your FINAL INVESTMENT. I don't believe in pre-selling photo packages, I want you to come to the studio with the confidence that if you don't like your images, you are NOT required to any type of purchase. That is how much I am committed to deliver images where you look absolutely beautiful.
If you like your images (nobody has walked away empty handed!) your investment will be determined by how many images you select.
Your final product will be a beautiful leather bound album custom designed to your specifications as well as your fully-retouched images in full resolution so that you can make any size portrait you wish. I even place these images in a private gallery with a password so that you can order your prints directly from the photo lab I use, paying their prices, no upsell here.
I hope this gives you a better understanding on the type of investment you will be making ON YOU and are excited to start the process.
CLICK HERE NOW to start the Boudoir Experience process and speak with me directly!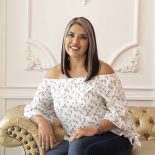 Argentina